Belgium and Northern France 2008
<!- 1 columns -->

After some years of not being able to ride the bike I was finally well enough to go for a ride, so Mark and I took off to visit Carlo for a weekend of riding in the Ardennes and Northern France.

Throughout the weekend Carlo and his family were, as always, fantastic hosts.

We arrived at Carlo's at 19:00 on Friday evening, met Jose and had the most amazing dinner. Then down into Antwerp for a Kriek.
Ardennes
Namur to Givet
We rode down from Antwerp to Namur on the E411 and then followed the Meuse through Dinant to Givet, just across the border in France, where we stopped for lunch:.

Jose

Carlo

Mark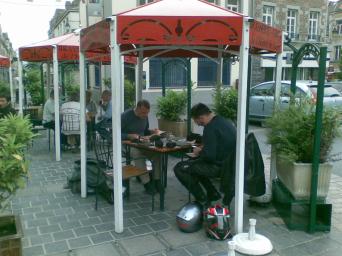 The obligatory food shot
Givet to Vresse-sur-Semois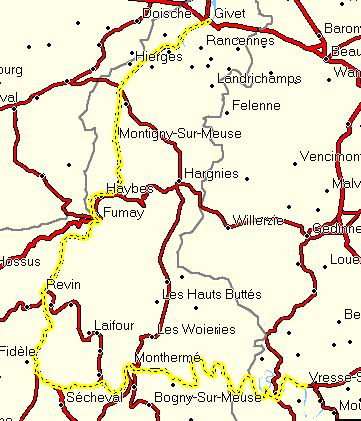 We mostly followed the Meuse and the Semois to Vresse, where we stopped for a coffee.
Vresse to the E411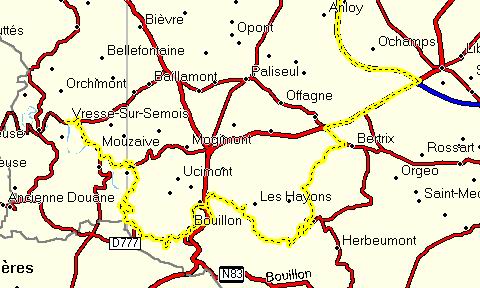 After Vresse we stopped at a noted lookout point near Rochehaut with views across the river to Frahan.

Frahan from a lookout near Rochehaut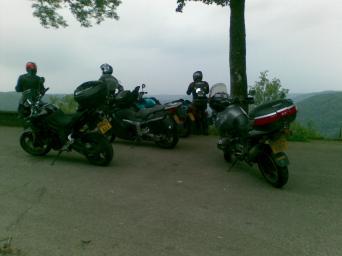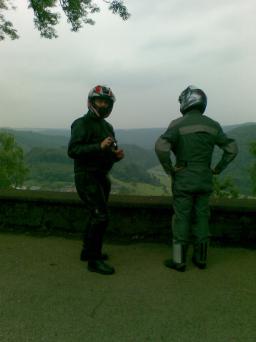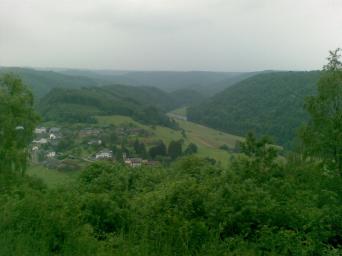 Again, Frahan from a lookout near Rochehaut
From Rochehaut we rode through some amazing wooded roads with occasional breaks for great views.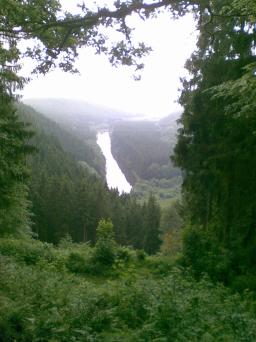 After getting on the bikes at about 09:30 to 10:00 (ish) we returned to Antwerp at about 19:30. The perfect day was capped by having dinner in The Best Asian Restaurant in Benilux 2008!
This is the longest day in the saddle that I have had for some years!
Flanders
Ieper (Ypres) to Dunkerque
We stopped in the Grote Markt in Ieper for coffee before riding the back roads of Flanders to Dunkerque. I was surprised at how rolling the countryside is compared to the coast.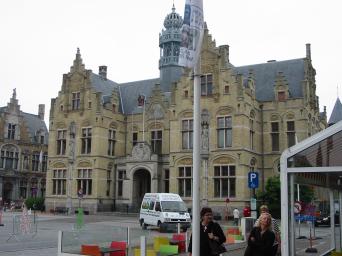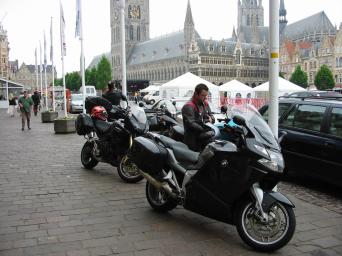 Northern France
Calais to Le Touquet
From Dunkerque we slabbed down the motorway to Calais. At Calais we got off the motorway and onto the coast road towards Boulogne.
The coast road south from Calais twists and turns along cliffs and dunes with lovely curves and views. Coming into Le Touquet, where we stopped for lunch, we could see why Ian Fleming set Casino Royal in the area.
After a late lunch we split up with Mark and I getting on the autoroute back to Calais and then the train back to Folkstone.
Many thanks to Carlo, Gabi, Sylvia and Tomi for putting up with us.
Thanks also to Jose for joining in the fun.
Thanks to Mark for accompanying me.
And thanks to Kate for putting up with me dashing off without her!